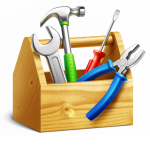 Parents ask me all of the time about iPad use. They want to know what apps to buy to work on listening and language development. Seems like an easy question, but this happens to be one of the most difficult questions I get asked. What you must understand is that I am a self-proclaimed apple fanatic and have all things Apple: an iPhone, iPad, Apple Watch, and iMac computer. I am one of those "crazy" people who wakes up in the middle of the night to order a new Apple product each time one is launched. And while I definitely love Apple products for MANY reasons, I have to think twice before I respond to this question.
By providing a list of apps, am I sending a message to the parents that handing a child an iPad with one of these "chosen" apps and then walking away is a good thing? Is it?
I once saw a sign once that read… "There is no app to replace your lap". How true!
There have been many research studies related to screen time and how much time is acceptable for children of various ages. The American Academy of Pediatrics states, "Children and teens should engage with entertainment media for no more than one or two hours per day, and that should be high-quality content." They further state that "Television and other entertainment media should be avoided for infants and children under age 2. A child's brain develops rapidly during these first years, and young children learn best by interacting with people, not screens."
A couple of years ago, UCLA conducted a research study that showed that 6th grade students who were sent away to a camp for 5 days with out access to smartphones, T.V.s or other digital devices were significantly better at reading human emotions and facial cues than those who continued to use the devices. This is important research, as it reveals that there is a social cost to spending too much time on electronic devices, such as iPads. So, what is the balance? How can we best use iPads for positive effects?
Good educational apps can be great tools to use to interact with your child and provide a mutually interesting topic to talk about or practice a specified skill. However, they are absolutely not a replacement for those everyday language moments that are the hallmark of good listening and language therapy. Incorporating listening and language activities into your every day life will better provide life long skills. My recent article about building vocabulary  provides many examples of activities and places to visit with your child to help increase language skills.
As a parent myself, I do understand that there are those times when you need to occupy your child while you take care of something (such as, make a phone call, help a sibling with homework, or change the baby's diaper). These are times when handing over an iPad with a "chosen" app might be great. I would often rather have a child sit alone with an iPad and an educationally based app than just sit and watch TV without interaction. At a minimum, the app allows the child to interact with the device and the activity/game. With good apps these can be moments of learning. Other times that you might consider handing over an iPad are when you are doing chores around the house, like cooking dinner, doing the laundry, etc… These MAY NOT be the right time to hand over the iPad. Instead, consider including your child in these activities as they are GREAT listening and language moments, providing lots of language input to your child.
So now that we understand the good and the bad of iPad use and how to maximally utilize these electronic devices to benefit your child, I am sure you are looking for me to share with you some apps that I like. While I wish that I could present a list of the BEST apps for listening, speech and language, this is an impossible task for several reasons:
1. It depends on the age/stage of your child
2. It depends on the skill you are trying to address
3. The world of apps keeps changing. New apps are created everyday so the list becomes outdated rather quickly.
But, here are a few of my favorites:
AB Clix (Advanced Bionics)—for older children and adults, works on listening to word differences in      quiet and noise
AB Listening Adventures (Advanced Bionics)—for younger children, works on listening for words in sentences
Articulation Station—an articulation app which targets speech sounds in all word positions at the word and sentence level
Auditory Work Out—works on auditory attention, memory and following directions
Between the Lines—good for practice in reading social cues (facial expression, vocal intonation, body language)
Cake Doodle/Cookie Doodle—make cookies and cakes, can work on following single and multi-step directions
Category Carousel—works on vocabulary and categorization
Continents and Oceans (Med El)—for older children and adults, works on improving listening skills
Food Frenzy—works on following different types of directions to prepare and deliver a food order to a customer
Fun with Directions—practice listening and following directions and improve auditory memory
iAngel Sound—an interactive auditory training program that is self-paced and works on a variety of listening skills
iSequences—practice sequencing and telling stories, includes 100 different everyday situations
Listening Power Preschool—for preschoolers to work on developing listening and understanding receptive language concepts
My Playhome—an interactive house that allows you to manipulate people and objects in different rooms
My Playhome Store—an interactive street that allows you to manipulate people and objects in different stores
My Play Home School—an interactive school that allows you to manipulate people and objects in different classrooms
One Step Two Step—works on listening and following multi-step directions (include drawing)
Peek-a-boo Barn—learn the names of animals and the sounds they make
Peek-a-boo Fridge—learn about fruit, vegetables, and other healthy food items
RTS Hangman—a hangman game to learn vocabulary to around self-advocacy for hearing loss
Scribblenauts Remix—video game format that requires solving language puzzles with the use of specific vocabulary to move through each level
Speech with Milo Nouns, Verbs, Adjectives, Prepositions (4 different apps)—a great way to build noun, verb, adjective and preposition vocabulary
Speech with Milo Sequences—interactive sequencing cards to work on storytelling skills
Splingos Language Universe—work on following directions to manipulate objects
Story Builder—works on creating a narrative story allows for recording your voice
Super Duper Story Maker—create picture and photo stories to retell, allows for recording
Talking Tom (and other talking friends)—responds to your touch and repeats everything you say
Toca Boca apps (Toca Tailor, Toca Doctor, Toca Kitchen, Toca Hair Salon)—interactive apps that allow you to manipulate characters in a variety of locations to work on vocabulary specific to each location
Toontastic—works on story telling, create and animate cartoons
VocAB Scenes (Advanced Bionics)—fun scenes to play 3 different games (make a scene, name 10, yes or no?) which target listening and vocabulary
Word SLaPps—work on receptive vocabulary in a game format, use icons or photos of your own