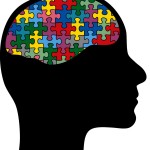 When we think of our goals for our children with hearing loss (whether our own children, our students or our clients in private practice), we aim high and strive for development of age appropriate skills across all domains. This includes academics, communication, and of course socialization. To develop good social communication skills children must learn the rules of conversation and then apply these rules during conversational exchanges. However, equally important to social competence and the ability to develop and maintain social connections with others is the development of theory of mind and perspective taking.
Theory of mind is the ability to understand that others can have different thoughts from your own. Children who have developed a theory of mind, understand the feelings of others, how others might react differently to the same event, and that others thoughts are based upon their own experiences. While theory of mind begins to develop in infancy, research shows that by around age 3, children begin to understand that people want, like and feel different things. However, the ability to understand that people think different things only begins to emerge around age 4 or 5.
Theory of mind is a hot topic in the field of autism, as it has been shown that children on the autism spectrum have difficulty with taking the perspectives of others. As children with hearing loss are also known to have delays in the area of social communication, it is important that we examine development of theory of mind for children with hearing loss, as well.
So how do we assess theory of mind? Over the years researchers have created a variety of tests to assess theory of mind. Most of these tests require a child to possess language and have the ability to understand and use multi-word utterances. In fact, it is extremely difficult to assess theory of mind in pre-verbal children.
In 1983, Perner and Wimmer researched development of theory of mind in a study of children between the ages of 3-9. In the study, each child was presented with a story about a character Maxi who puts chocolate in the cupboard and leaves the scene. Then his mother moves the chocolate to a new location. The child is then asked where Maxi will look for the chocolate upon his return. The child passes the task (demonstrating theory of mind) if the child chooses the first cupboard. The child who has not yet developed theory of mind will state that Maxi will look for it in the new location, where his mother placed it. This is because the child is using his/her own knowledge, rather than taking the perspective of Maxi who did not see the chocolate moved. Perner and Wimmer found that theory of mind was not present in any of the 3-4 year olds, was present in 57% of the 4-6 year olds, and was present in 86% of 6-9 year olds.
In the attempt to create a task that didn't require as much language, the "smarties" task was created. In this task, children are asked what they think is inside of a box of candy called "Smarties" Once the child says "Smarties", he/she is shown that the box is actually filled with pencils. Then the box is closed and the child is asked what another person, who has not seen the contents of the box, will think is inside the box. The child passes the task if he/she responds that the person will think that there are "Smarties" in the box, but fails if he/she responds that the person will think that the box contains pencils. Research in 1988 by Gopnik & Astington revealed that children pass this test around age four or five.
In 2002, Schick, de Villiers, de Villiers and Hoffmeister reported on theory of mind in deaf children. They studied theory of mind in 3 groups of deaf children. Those with deaf parents, those with hearing parents who were learning via an oral approach, and those with hearing parents who were learning ASL. They found that deaf children of deaf parents who were exposed to fluent ASL since birth developed theory of mind in a typical time frame as their typically developing hearing peers. Both groups of deaf children born to hearing parents had a delay in development of theory of mind. Additionally, they found a direct correlation between the language skills of the deaf children and their development of theory of mind.
This research by Schick and colleagues is evidence that children with hearing loss who possess excellent language skills are more likely to develop theory of mind at an earlier age. Since children with a developed theory of mind are better able to take the perspective others, they will be more likely to possess stronger social relationships and less likely to be involved in conflict.  Of course this is what we are striving for with our children with hearing loss.
So, What can you do to help your child to develop these skills?
Work on improving overall listening and spoken language skills. Refer to my articles on the listening hierarchy, reading with your child, increasing language through cooking, social communication skills and sabotage.
With young preschoolers, explicitly teach the vocabulary of emotions. In the moment, talk about how friends feel: when hurt, when a toys is taken away from them, or when a picture made in the art center is torn. Use the language "He/She feels ______, because ________". Teaching empathy is a large step in understanding the perspective of others and developing theory of mind.
Pretend play and taking on roles is another excellent way to begin to develop theory of mind. By becoming another person or character, you create opportunity to talk about how the person thinks and feels separate from the child's own thoughts.
Reading books (both fiction and non fiction) offers many opportunities to talk about what the characters might be feeling and thinking. Examine the pictures in picture books, talk about thoughts that are explicitly stated, but also work on making inferences about what characters might be thinking.
Model for your child that your own thoughts might be different from his/hers by thinking out-loud. Find opportunities where your thoughts differ and share these with your child.
Practice predicting what others might be thinking. Cut out pictures from magazines and create and fill in speech bubbles. Talk about what the person is thinking based upon the details of the picture. You can also discuss what you or your child would have been thinking in the same circumstance.
Discuss real life social situations openly with your child including differences in opinion, misunderstandings, as well as teasing.
Michelle Garcia Winner and her website socialthinking.com are a great resource for ideas on teaching theory of mind and perspective taking. While she specializes in working with children on the autism spectrum, many of the resources on her website can be tailored to help children with hearing loss to develop strong social skills.